My Name Is Love
The Darlene Love Story
By Darlene Love with Rob Hoerburger
Darlene Love lives in Spring Valley, N.Y.
Rob Hoerburger is an editor and a writer for The New York Times Magazine.
Hers was the voice that helped launch a hundred hits: the No. 1 "He's a Rebel," "(Today I Met) the Boy I'm Gonna Marry," "He's Sure the Boy I Love" and "Christmas (Baby Please Come Home)," all of which she sang for the legendary producer Phil Spector during the glory days of the girl-group era, as well as countless songs she sang backup on for artists like Sam Cooke, Elvis Presley, Dionne Warwick, Cher and Aretha Franklin. She also toured the country as a member of Bob. B. Soxx and the Blue Jeans and had a regular spot on the TV show Shindig, where she crossed paths with such legends as Marvin Gaye, Ray Charles and the Supremes.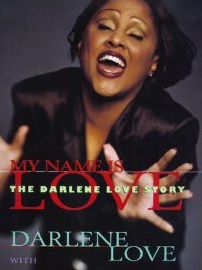 Now, in My Name Is Love, the woman whose voice The New York Times said is "as embedded in the history of rock and roll as Eric Clapton's guitar and Bob Dylan's lyrics" tells her incredible story. Over the years Darlene Love has collected not just hits but some juicy bits of musical history: Elvis coming on to her after they worked together on his legendary '68 comeback TV special, the wild parties she witnessed while touring with Tom Jones, and her love affair with Bill Medley of the Righteous Brothers. She tells all of these scintillating backstage stories with the engaging forthrightness of the preacher's daughter that she is.
Darlene also vividly recalls the period in her life when she disappeared from the music scene and fell on hard times. One day, while working as a maid in Beverly Hills, she heard herself on the radio and vowed to make a comeback, and so she has, with appearances in all four Lethal Weapon movies, starring roles on Broadway and headlining concert tours worldwide.
My Name Is Love is partly a dishy show-biz memoir, but it's also an inspiring story of a woman who never lost her will to sing.
Excerpted from the open of My Name is Love: The Darlene Love Story
Darlene Love was born to Ellen and Joe Wright in East Los Angeles on July 26, 1941. One of five children and the daughter of a minister, the family of seven settled into the three and a half room bungalow at 887½ 42nd Street.

Of her early years, Love describes LA. "in the thirties and forties [as] a city that existed mostly in people's imaginations…. But for us, Los Angeles had nothing to do with movie stars or stubbly, hard-drinking gumshoes trying to piece together broken dreams after hours. For us Los Angeles was contained in about twenty blocks, bookended on one side by our projects and playgrounds and on the other by church."

Young Darlene wasn't aware of a racial divide in those days. Of the cliché "we didn't know we were poor" she adds "if we didn't know we were poor, we didn't 'know' we were black either." Whites, blacks and Mexicans lived without strife. Long before the days of Tiger Woods, Darlene's father would rise early and could be seen on the golf course as early as five AM long before other golfers had arrived. Where Darlene grew up, there were no limits to what a person could aspire.

When her father was offered his own church in San Antonio, the family moved. It was a summer in her father's native Texas, standing next to an old Victrola, she sang out loud to Marian Anderson records and marveled at what came out. It was there that ten year-old Darlene began singing in school glee clubs and by the time they moved back to California in 1956, she was singing in the church choir. The day the choir director asked her to join her at the Music Mart, a Christian bookstore in town, is when and where she believes her singing career really began.

She was invited to join the girl group The Blossoms, which eventually led her to be noticed by Phil Spector. Spector was developing a unique music genre, harvesting the best voices around to create his signature '60's girl group sound. Through the '60s and '70's, Love's distinctive voice could be heard with The Blossoms, The Crystals, Bob B. Soxx & The Blue Jeans and as background for the likes of Sam Cooke, Cher, Aretha Franklin and countless other lead singers.

Over the years there would be more names linked with Darlene, including Nancy Sinatra, Elvis, Bobby Darin, Bill Medley and Dionne Warwick. What did the Righteous Brothers' song "(You're My) Soul and Inspiration" really hold for Darlene? What did Elvis 'suggest' to Darlene one day on the set of his movie Change of Habit? How hard was it to resist the charms of sex-symbol Tom Jones and was she able to? Her story is one of drama, and trauma, from the birth of three sons and the loss of a daughter, to what dramatic crescendo would lead to the end of The Blossoms.

Darlene LoveDarlene's epiphany came one day at the age of 40 when she decided she was tired of her vocals being "used as an expensive accessory" to other artists. Her determination to begin her solo career in midlife came after working at a dry cleaner and as a maid in Beverly Hills.

It was the late Luther Vandross who told her to follow her dream. "You can sing any style of music," he said. "It's just that the dots haven't been connected through no fault of your own. It's all based on an intangible combination of crosswinds."

The crosswinds are blowing. Now, after a well-deserved nod from the Rock and Roll Hall of Fame nominating committee, a Madison Square Garden concert with Bruce Springsteen, Darlene Love is Down Under, performing the lead in FAME while a movie is going to be made about her incredible life.
Order your copy now! To order the book, please send a $25.00 money order or cashier's check made payable to Love Songs, Inc. Address: Love Songs, Inc. PO Box 762, Nanuet, NY 10954.
COD orders are also acceptable. The $25.00 price also includes Priority Mail shipping and taxes.